Machine de formage automatique de carreaux vitrés
Description du produit:
*Le Baie vitrée r OOF t iles Sont beaux, élégants et nobles. Il peut être largement utilisé dans l' usine de style jardin, les endroits pittoresques t effilochage, hôtel, centre d'exposition, villa, construction civile et ainsi de suite.
* Les produits de celui-ci sont utilisés comme toiture et panneau mural à l'extérieur du bâtiment, afin d'accroître la beauté et la durabilité de la tuile et du mur. Nous pouvons concevoir la machine en fonction de vos dessins détaillés.

Pararmeter technique de la ligne de produits:

| | | |
| --- | --- | --- |
| No. | Item | |
| 1. | Processing Material | PPGI,GI |
| 2. | Processing Thickness(mm) | 0.3-0.6mm |
| 3. | Material of Rollers | 45# steel, with hard chrome coated |
| 4. | Diameter of Shaft | 76mm |
| 5. | Production Speed | 0-10m/min |
| 6. | Roller Driven | Decelerating Motor Chain Transmission |
| 7. | Cutting Model | Hydraulic Profile Cutting |
| 8. | Length Measurement | Encoder |
| 9. | Control Style | PLC |
| 10. | Operation Model | Touching Screen |
| 11. | Total Power | 8kw |
| 12. | Voltage | 380V 50HZ or at buyer's request |
| 13. | Testing Material | Q195 |
Il se compose d'un dérouleur manuel, d'une table d'alimentation, d'une machine à formage de rouleaux principaux, d'un système hydraulique, d'un mécanisme de cisaillement, d'un boîtier de contrôle informatique.
Plus de détails: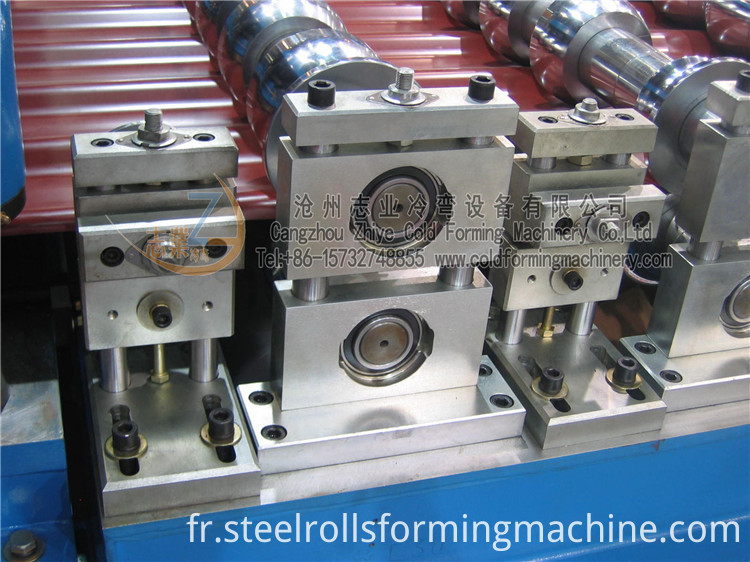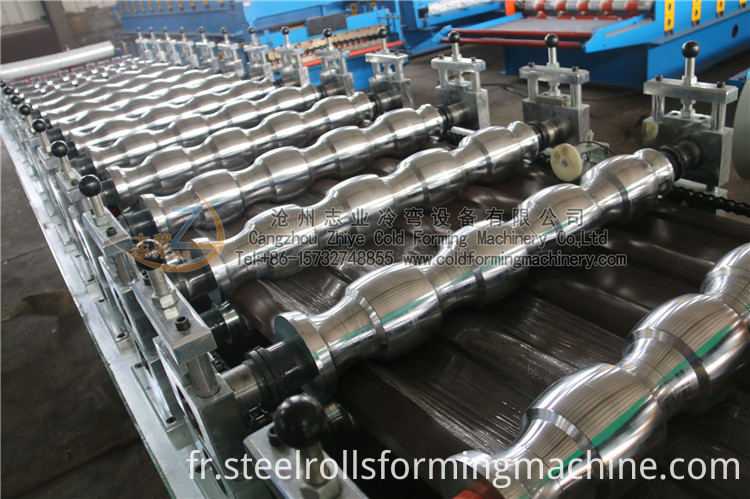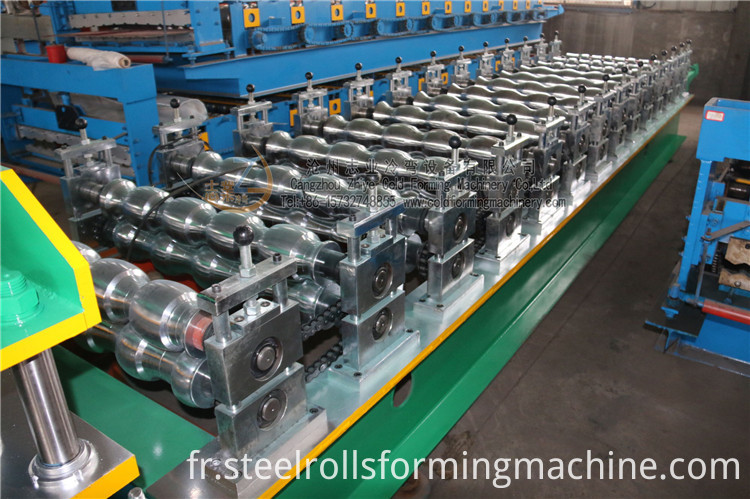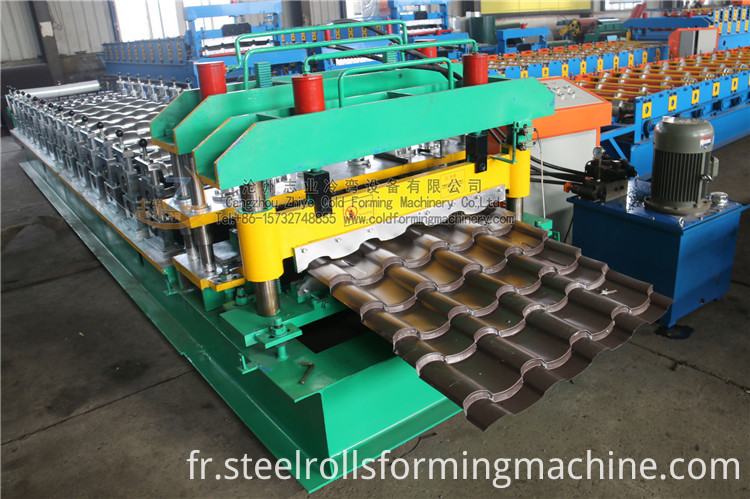 Informations de contact:
Tél: +86 18833785938
WhatsApp: +86 18833785938
WeChat: 18833785938
Emballage et expédition:
1, nous avons des techniciens professionnels pour le chargement Nous avons garanti que les marchandises se chargent dans le conteneur sans dommage.
2, nu, avec un tissu imperméable et un bois rond. Système de contrôle informatique importé emballé avec un tissu étanche et un panneau de carte.
3,30 jours ouvrables après avoir reçu le dépôt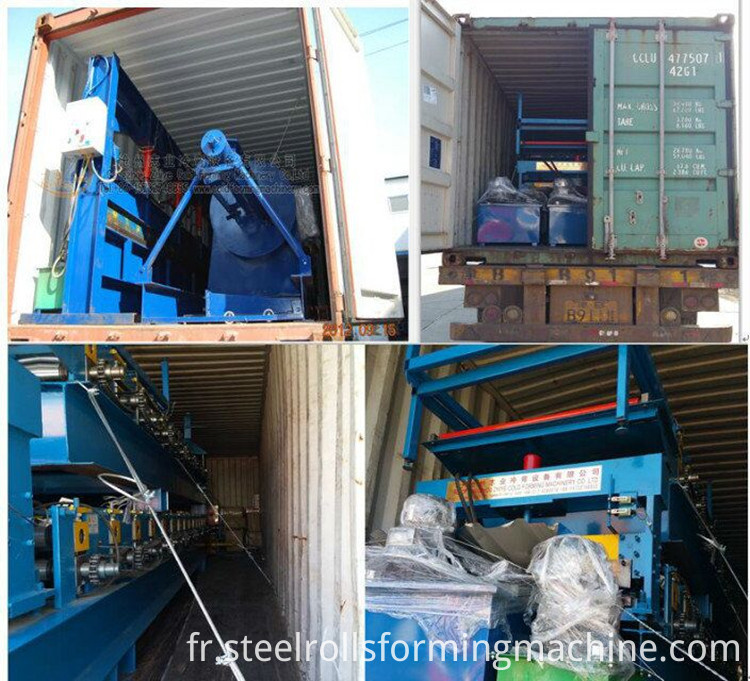 Notre service:
Nous fournissons le soutien technique pour toute la vie. Pendant ce temps, si des pièces sont cassées et ne sont pas des dommages artificiels, nous vous enverrons de nouvelles gratuitement. Lorsque le technicien doit aller à l'étranger, nous allons organiser le technicien. Mais l'acheteur devrait prendre tout son prix, y compris le visa, le billet aller-retour, l'hébergement approprié et payer les frais de service au technicien avec 150 $ par jour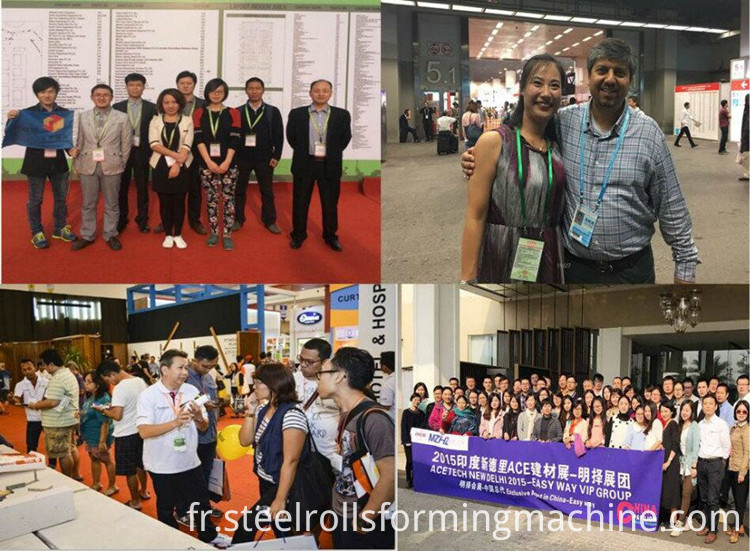 Informations de contact:
Tél: +86 18833785938
WhatsApp: +86 18833785938
WeChat: 18833785938
Informations sur la société:
* Cangzhou Zhiye formage à froid Machinery Co., Ltd est créée en 1996, nous sommes spécialisés dans divers machines de formage à froid et les produits de production automatique de lines.Main sont: machines formant toiture / panneau mural rouleau, machines de formage de rouleau de tuiles, C / Z / U Rouleau de purlin formant des machiens, des machines de formage de rouleaux de plancher, des châssis en acier, des machines de formage de rouleaux en treillis, des machines de formage de rouleaux de tuyaux et des machiens contrôlés.
* Nos produits à grande échelle ont été vendus dans plus de 50 pays et régions, pour la Russie, le Myanmar, la Mongolie, la Roumanie, l'Irak, la Corée du Sud, le Canada, le Mozambique, le Bahreïn, la Bolivie, l'Angola, le Paraguay, la Turquie, le Sri Lanka, etc. Apparence, construction raisonnable, jolie conception de la tuile a gagné l'appréciation universelle et la recommandation des clients partout dans le monde.
* [Mettre en place une entreprise à long terme, une marque de cent ans) est l'objectif de la société. Nous espérons sincèrement de créer un meilleur avenir avec vous.


Largement utilisé: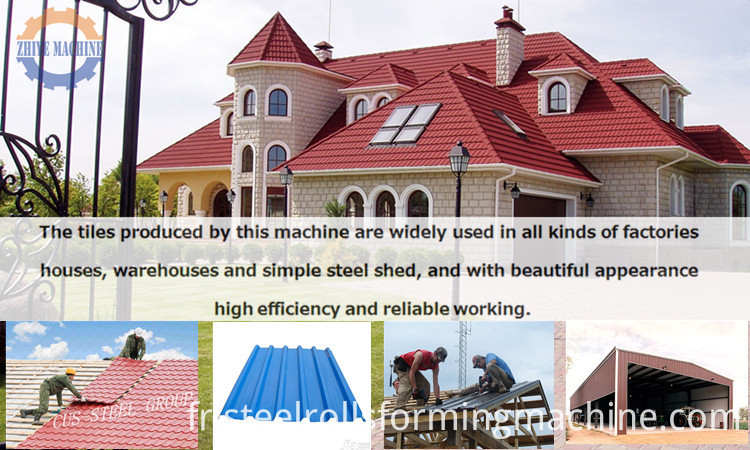 Contactez nous: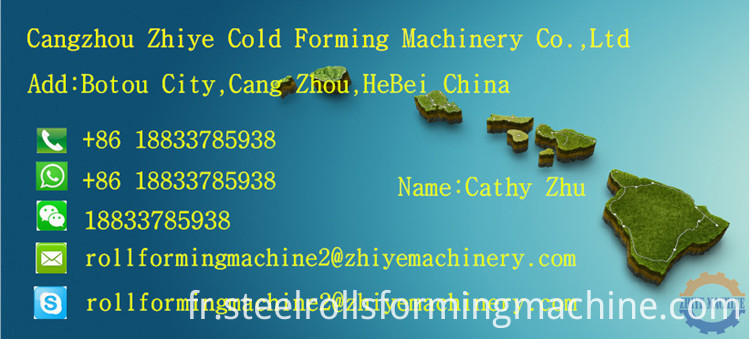 Groupes de Produits : Ligne de formation de rouleau de carrelage au toit glacé